2016.May.28【FEW CSS 2016 Women Rising Tokyo】speech
2016.May.28【FEW CSS 2016 Women Rising Tokyo】speech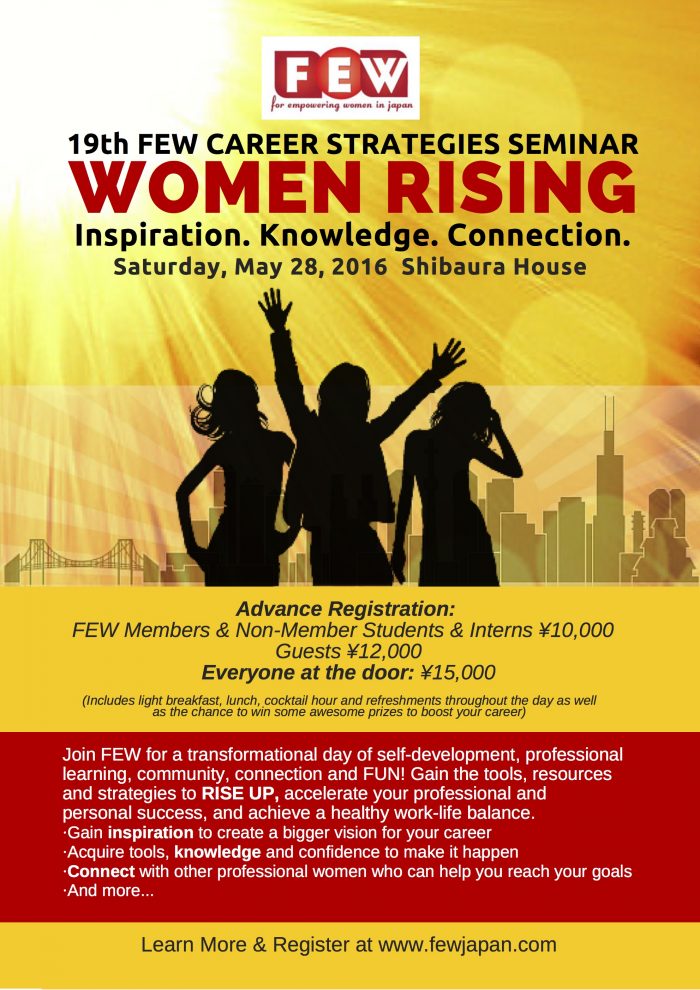 Join us for a transformational day-long event full of seminars, workshops and networking opportunities to help you take your career to the next level.
Saturday May 28th / 9:30 – 19:00 / Members ¥10,000 / Non-members (Women only) ¥12,000 / Non-member Students & Interns (Women only) ¥10,000 / Non-preregistered Attendees ¥15,000
FEW CSS 2016 : Women Rising on Saturday May 28th in Shibaura House, Tokyo
Inspiration. Knowledge. Connection:
Every two years members of the FEW community and beyond come together for the FEW biennial Career Strategies Seminar (CSS). As FEW's flagship event, this full-day professional development seminar is organized and led by experienced, successful female industry leaders, small business owners, and amazing coaches and mentors for women from all backgrounds living and working in Japan. The day features keynote speakers, hands-on workshops and practical skill-building sessions, to equip participants with the tools, resources and strategies to enhance their lives and careers in Japan.
Now, in its 19th year, the theme of CSS 2016 is "WOMEN RISING," offering "Inspiration, Knowledge and Connection" and welcoming more than 70 FEW members and other international women for a transformational day of female empowerment, self-development, professional learning, camaraderie, networking and fun!
This year our goal is to help attendees acquire the necessary tools and confidence to RISE UP and better navigate their way towards an even more purposeful career, no matter what stage of their professional journey they are in.
Keynote Speech:
Ai Futaki
Underwater Explorer, Double Guinness World Record Holder of "The Longest Distance in Cave with only ONE Breath," TEDx Speaker
Two-time freediving Guinness World Record holder, underwater videographer, performer, model, speaker and instructor sharing the beauty and ONENESS with water. She is the bridge between the underwater world and the human world.
"Rising My Way"
Ai truly is part of the underwater world. By representing the aquatic realm in a way that the world has never seen, Ai highlights the meaning and expression of the human–water connection.
10:15 – 10:45 Keynote Speech — "Rising My Way"
Website : http://fewjapan.com/event/few-career-strategies-seminar-2016-women-rising/
Speaker & Workshop : http://fewjapan.com/css-2016-speakers-and-workshops/